Heavy exposure to cleaning processes combined with a long period in service can lead to stiction, or worse, actual adhesion of the gasket to the ferrules. In both cases, this makes gasket replacement difficult and time consuming particularly in hard to access areas.
In this instance we are using the term stiction to describe the gasket's resistance to removal, even though it may ultimately peel off intact; adhesion on the other hand leaves some gasket material on the ferrule when removed, which will need cleaning, or ferrule replacement, before installing a new gasket.
Elast-O-Pure EP75B was specifically engineered to minimise stiction/adhesion, however, in some rare, demanding long service locations, even EP75B may experience a degree of stiction, which can result in increased maintenance time being required to complete a gasket change-out.
For these particularly demanding environments, James Walker has developed a USP Class VI compliant surface
treatment which eliminates the stiction, thereby making maintenance straight forward, even in difficult to access areas.
One indicator of the propensity for a material to experience stiction is its coefficient of friction, with lower values indicating reduced likelihood of stiction. The chart below shows the coefficient of friction, both static and dynamic, for EP75B and treated EP75B compared to PTFE, which has a very low coefficient of friction, and does not stick to metal surfaces.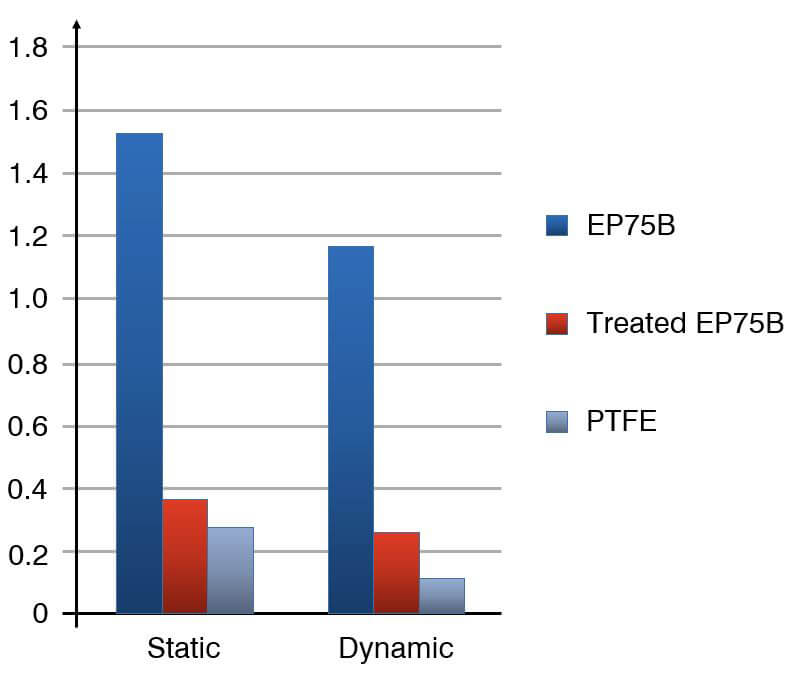 As the graph above shows, the treatment dramatically reduces the coefficient of friction, hence indicating a minimal risk of stiction or adhesion.
This treatment has been used in several demanding applications at three biopharma plants across the globe, with great success.
Therefore, for gaskets in difficult to access areas, in service for long periods and exposed to many SIP cycles, where stiction/adhesion problems are more likely, this proven treatment eliminates stiction / adhesion, making gasket change out quick and easy, and minimising the maintenance time required.