Over the years James Walker technical experts have had many conversations with gasket fitters and end customers on the topic of flange leakage through perceived 'gasket failure'; the majority of the time we conclude that the gaskets weren't at fault but typically faults or flaws in the fitting procedure or equipment in a poor state of repair is the root cause of the flange leakage.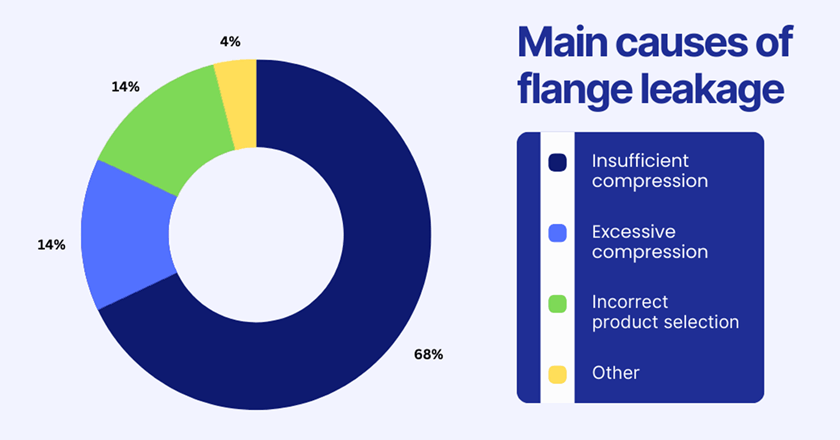 Causes of gasket failure / flange leakage
The mode of 'gasket failure' can be categorised in 4 ways. As captured by a survey from the Fluid Sealing Association of America (FSA). On assessment of cases of reported 'gasket failure' they determined the root cause of the failures as follows;
Insufficient compression (68%)
Excessive compression (14%)
Incorrect product selection (14%)
Other (4%)

Insufficient compression
Under-compression of the gasket can be caused by insufficient fastener/ bolt load being applied at installation to ensure that the gasket is compressed to a degree that assures leak tightness and sufficient compensation for a factor of gasket relaxation.
As you begin to tighten the fastener; the subsequent load exerted onto the gasket will initially start to press the face of the gasket into the gramophone finish on the flange face. After this point you need to compress the gasket further to close the voids and gaps in the material to prevent media permeation through the gasket.
An additional effect you will encounter is gasket creep. In some materials this is fairly instant; in others this may take time or even a change in temperature to cause the creep effect.
The effect of creep further reduces gasket thickness or target stress at assembly, beyond the initial set point, which can result in a loss of the originally applied bolt load.
In some cases this creep / relaxation can result in a degree of media permeation in the form of leakage. In more severe cases the creep effect could result in enough loss in stress to no longer be able to overcome hydrostatic unloading effects; and in these cases gasket blowout becomes a major concern.

Excessive compression
Excessive gasket compression is caused by excessive load being applied through the flange fasteners / bolts. This can be caused by not using the correct target torque value or perhaps not using a tool that can directly measure torque, such as an impact gun or manual tightening with wrenches & lever bars.
In other cases, using incorrect lubrication or friction factor for the bolting can result in gasket overload created by uncontrolled tightening or "real world" frictional variances.
Over-compression of some gasket materials may result in a flow of excess material towards the ID bore that can result in restriction of media flow. In these cases the media can also flow into the ID damaged area, allowing the media to penetrate the gasket. This can result in gasket damage and in some cases, with aggressive chemical media for example, flange face damage towards the bore.
In some gasket materials, over-compression can cause complete collapse and extrusion of the gasket, resulting in leakage flow.

Incorrect gasket selection
When an incorrect gasket product is selected, there can be major health and safety concerns. Gaskets typically operate with a large range of aggressive chemical media across extremes of temperature and pressure. If the gasket material is not suitably rated for the temperature, pressure and media compatibility; the failure mode can be catastrophic and result in unplanned plant down time or even injury to members of the workforce.
A gasket must be chemically compatible with the application media; some media can chemically attack the gasket material resulting in loss of mechanical integrity, causing premature degradation and ultimately failure and leakage.

Other modes of 'gasket failure' in a bolted flange assembly are as follows;
Excessive flange damage across the sealing face. (Cracks, scratches, dents and corrosion).
Incorrect gasket size selected and installed.
Poor gasket cut quality (particularly when carried out on site).
Product damaged by handling or installed outside of service / shelf life.
Changes to the intended application function. Change to process media, temperature or pressure.
Use of outdated tools and equipment that have not been regularly / correctly maintained.

Simple corrective actions
In addition to consulting your seal provider and flange management contractors, there are a number of simple actions that can be followed to minimise the chance of flange leakage;
Adhere to recognised fitting standards, calculations and reports such as EN1591 or ASME PCC-1.
Ensure fasteners / bolts are properly lubricated.
Always use the gasket manufacturer's recommended torque values.
Use experienced site services supervision to assess equipment and ensure correct product installation procedures are followed.
Monitor bolt load directly with tension monitoring and control products.
Use proper tightening tools - such as a carefully calibrated torque wrench.
Take advantage of applications engineering support for challenging application environments.
Always check correct gasket specification.
Store and handle gaskets correctly.